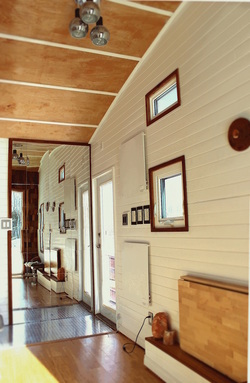 The increasing interest in small houses, and "Tiny Houses" is a great trend to follow. If you have opportunity, it is a great one to also contribute to. While this movement may be seen as result of backlash from the McMansion era, and the ongoing recession started in 2008, it also initiates a great design and innovation opportunity.
To get acquainted with this, if not already, a good place to start is a visit to
Tiny House Blog
http://tinyhouseblog.com
The photo here is from a recent post on the project of a "tiny house" company in the Yukon, Canada. What you will see if linking to this post, is a 97 sq ft home, with novel materials and construction for cold weather efficiencies.
What I also find of interest is their attention to the feel/psychology of space.
This is a key area that I always emphasize to engineering teams in the design of operator cabs for machinery, whether on large construction equipment and combine harvesters or on small compact tractors (and most particularly here, obviously).
I believe that there are things to be learned for the "vehicle" design world, from this area of what may be seen as architecture and interior design. What is great about the small house innovation craze, is the more egalitarian nature of who can play and invent in this area --- as a build of a tiny house can be undertaken by such a wide cross-section of creative people and from disparate backgrounds. In fact, the low cost of creating here, may itself be the driver for someone with dual purpose of creativity and need for a low-cost home. Hence thousands, and even hundreds of thousands, of people can be the effective "creative team". The threshold to entry is low and there is no management or tooling need involved.
In design effort a decade ago with John Deere in development of the cab on their compact 4000 series tractors, a prime push of mine was for simplifying and minimizing "clutter", opening views with best positioning of pillar and glass, and determined work for the operator to subconsciously have feeling of space. The result was a big leap from the cabs on earlier compact tractors, including Deere's. Most competitors have copied much of the layout, as they realized from John Deere how big the market was for an enclosed cab on a compact tractor --- when done with easy of entry, feeling of openness, and today's tooled fit and finish (with the new cab design, the percentage of buyers selecting this package far exceeded John Deere's market targets)
So, as a designer, I love following the innovations that I see coming from the tiny house craze --- and encourage you to engage your minds here also. As with most areas where design is caused to push the limits, new technologies here will find use in applications other than tiny houses.
Be bold, Be wild,
Russ