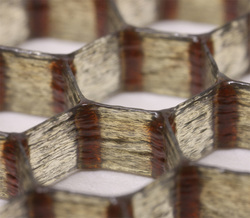 3-D printing of honeycomb structures as reported in this Gajitz article and in image to left, is pushing the cool factor into new areas for advanced materials. This engages the mind for how new applications shall grow from this. Take a look at Harvard researchers' video here at Gajitz:
New Epoxy Structures: As Light and Strong as Balsa Wood.
If you are an engineer/designer you have to be loving this.