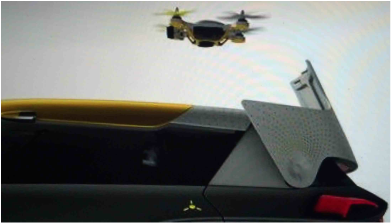 It was last August that I was asked by UK's IVT magazine to provide them my thoughts on 2033 look to the future on industrial, ag and vehicle technologies and what will be coming at us. We aren't even a year, and my expanding on applications/reasoning/tech ideas of those of Amos Boaz's of 2010, furthering that
field equipment will be carrying their own drones
for a variety of applications is showing up in France's Renault concept car. See:
http://gajitz.com/renaults-high-tech-concept-car-comes-with-its-own-drone/
This shows trends aren't that hard to see coming at us, just have to be thinking next steps, next improvements, next helpful features to handle challenges/problems. And, also, putting ideas and illustrations out there helps the trends along... furthering thought process and probabilities of new combinations of ideas for thousands of others out there today in the wide world of ease of access to media.
However, the next real step here is the 'driver' leaving with the drone to finalize the commute onto/into his place of office or work, while the car remains patient in traffic and autonomously drives itself to a waiting lot, or home.