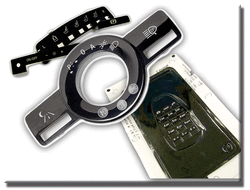 An engineering manager asked the other day if I could remind him on details I had provided a couple of his engineers earlier relative to adding color accents and custom graphics details in the molding of plastic components. So, while providing this, I thought I would also pass this quick overview along to my blog followers --- because, though most of your plastics molding suppliers, design houses and good prototype shops are aware of 'film insert molded finishes' and can work with you in achieving the right results integrating such features into components, more engineers who work outside of trim design should know about this capability.
In the majority of cases, the colored or graphic film is thermoformed and then set into the tool for injection molding of the thermoplastic or thermoset behind it, though in several lower pressure processes it can be vacuum formed into a hot tool and then thermoset plastic injected in second step into the closed tool. The film's advantages are in reducing painting process costs, providing durable and unique graphics, and also effectiveness in blocking visibility (read-through) of glass fibers when injection molding long-fiber-reinforced thermoplastics, and glass-reinforced thermosets, like polyurethanes.
For reference and illustration examples, please see links here:
http://www.compositesworld.com/articles/in-mold-decorating-dresses-up-composites
http://www.fusionuv.com/Film_Insert_Molding_Used_in_Automotive_Component_Decoration.aspx
(illustration above)
https://www.google.com/search?q=film+insert+molded+finish&client=firefox-a&hs=tD8&rls=org.mozilla:en-US:official&tbm=isch&tbo=u&source=univ&sa=X&ei=RHnyUqviJI3MsQS_3YKQAQ&ved=0CCwQsAQ&biw=1297&bih=799
http://www.paintfilm.com/newGallery/gallery.asp?id=4
I hope you find this helpful in furthering awareness on where this process can amp up the quality and 'knarliness' of a design area.
Russ