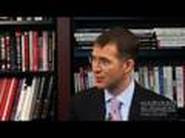 In e-mailing video link to a friend relative to discussion with Innovation Institute of Henry Ford, it called to mind to share here also:
http://www.youtube.com/watch?v=KGzXWO_anLI&feature=relmfu
This is a great presentation of proven concepts for anyone interested in exploring opportunities for innovation and considerations relative to change.
For engineers, scientists, and product development managers, Scott Anthony of Innosight provides an outline of thought that is really worth your time watching the video in entirety --- then re-watching, and taking notes on aspects applicable to your particular interests.
Scott is particularly direct in reinforcing concepts that I stress to design teams, and that I find to hold true with generating movement based on good instincts and talent --- doing rapid quick steps in fleshing out concepts, taking actions, making prototypes and CAD models, for others to add to, and move forward. This is why programs I lay out always have these elements worked into them.
You won't always find innovation that can be called disruptive innovation, but you will maximize value to your customer with your results, and enable pricing for margins for profits.
Particular Points I appreciate this video reinforcing:
At 3:10, he reinforces what I hear often from program managers or group managers who are seeking new advances, and know they are somehow limited in getting movement for these advances --- the "What is stopping us from innovating?" Scott Anthony states very well what is often needed, and not available within an organization --- the need to create space/opportunity, authorized at the higher level, to "allow opportunity for disruptive innovation to flourish" --- removing the "anti-bodies" from this special space, so you act in most positive manner and see what can happen.
At 4:32, he addresses opportunities for disruptive innovation, by identifying a need that is difficult to meet.
At 5:05, the interviewer asks a key question relative to customer clinics, and something I emphasize heavily in this area. It is worth full consideration of what Scott Anthony's answer provides as "thinking of what is beyond what the customer is saying", trying something, make illustrative stuff, act, and then see what the customer's ideas are from this. Then, take the next step, and then the next.
I have observed over the many years, that some within an organization will put full effort into reining in "outside the box" thinking on development of new features or new concepts, saying the customer is not asking for this --- while this may actually be that they aren't listening "beyond" to what the customer was "trying to say". This is most often because they haven't seen the effect of a feature or concept before, hence where the future will be going in this area, or what new elements mean when grouped within new technology or feature mix.
Consider well Scott at 6:58 of video --- on taking risk and making something.
And, in great summary question, at 7:23, in answer to the "do you always have to be daring?", take to heart the truth of results that occur when taking action in smaller, but true action manner --- to step quickly, to create base for assessing aspects of your challenge, for stepping again to larger path, and doing wisely. Key here is that actions taken rapidly enable review and discussion where no one is defending the time that has been spent if not being the direct answer. Rather, those involved being able to see the value of the thoughts/knowledge it provided, to then take ideas in better direction.
Hope this is helpful. Have fun innovating!
Russ Strong