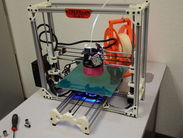 Have you been following the advance in 3D Printing that is playing out in the "personal printing" and open source arena? Big steps are being made as this area gets wider and wider participation, and thus matures. My friend, Terry Precht, founder, CEO, of
Vergent Products
just posted to his website link to new release of Aleph Objects' TK-O for LulzBot. See:
http://www.thingiverse.com/thing:31412
I love how
Tracey Ireland
, Vergent COO, is stepping the game forward with this development.
To get a picture of the larger happenings within this open source arena, take a moment and play through the navigation bar on the THINGIVERSE site that I linked here presenting the TK-O.
First, I believe these tools are the next step in on-desk engineering rapid prototyping with cost effectiveness to open greater use for visualization and product development evolution and refinement. They will take a sector of the rapid prototyping shops' work, and these businesses will focus more on high spec materials prototyping, just as their laser sintering with materials like titanium are opening new component and tooling advances and markets.
Second, the more the youth of America can get involved earlier, as these open source components and software are available --- just as with FIRST and robotics --- the more they will be engaged with engineering and the sciences. This is a needed aspect for their coming leadership in innovation for greater American global competitiveness within design and manufacturing.
Great area of technology and new technology/social combinations to keep abreast of.